Thursday, March 10, 2016
i'm here! i'm alive! i survived.
yesterday was the 3rd day and last day of my military diet. i think the last day of the program had the most miserable meals. yet, it was the easiest for me. i thought of food less, the urge to snack was less, and i wasn't as weak or as hungry or as shaking as the first two. i was a breeze, in fact.
the breakfast and lunch went by smoothly. we had dinner, however, with balikbayans on my husband's side of the family that i can't say no to. they had spaghetti, pansit, lechon manok, and a lot more i can't recall (because i had to avoid ogling). and let me tell you: i. did. not. eat. at. all. not even one bite. my mom-in-law (and all the rest, actually) asked me to eat. luckily, i was able to control myself and made myself busy by making sure that my chickadees ate.
when i got home at 9pm, i wasn't feeling super hungry. i was hungry, yes, but not starving. i ate my day 3 dinner at around 10:30pm, i think (by that time, i was starving so i wasn't able to take a picture *toink*).
without further adieu, my day 3 meals:

day 3 breakfast - 5 crackers, 1 slice cheddar cheese and 1 small apple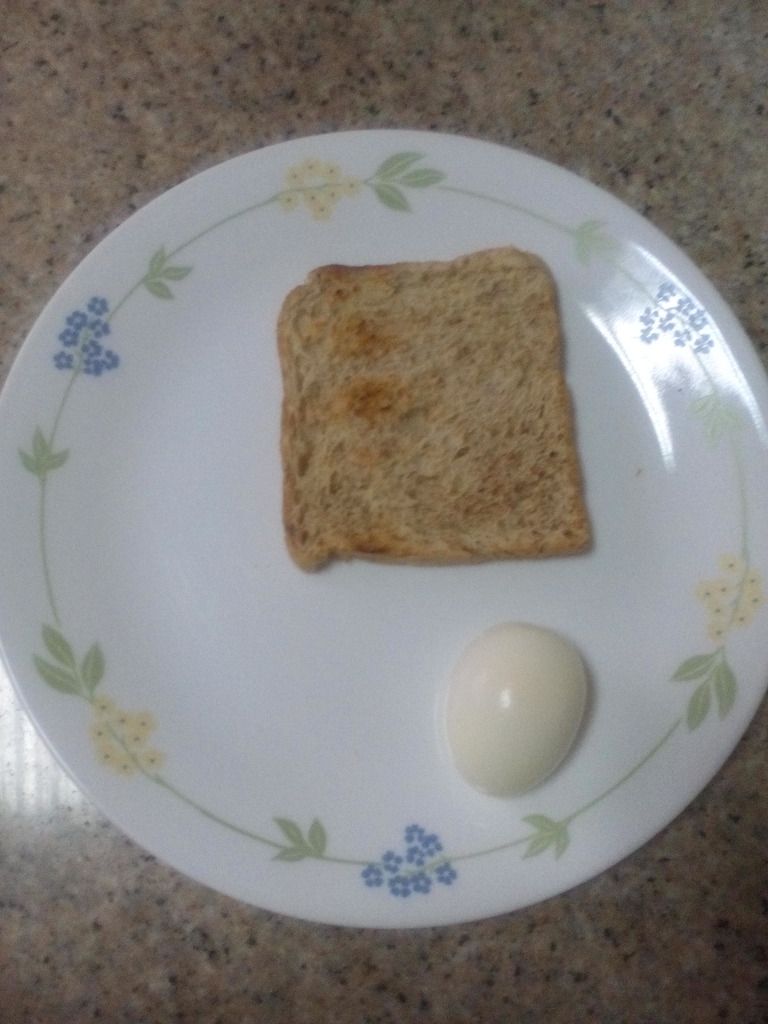 day 3 lunch - 1 slice of toast and 1 egg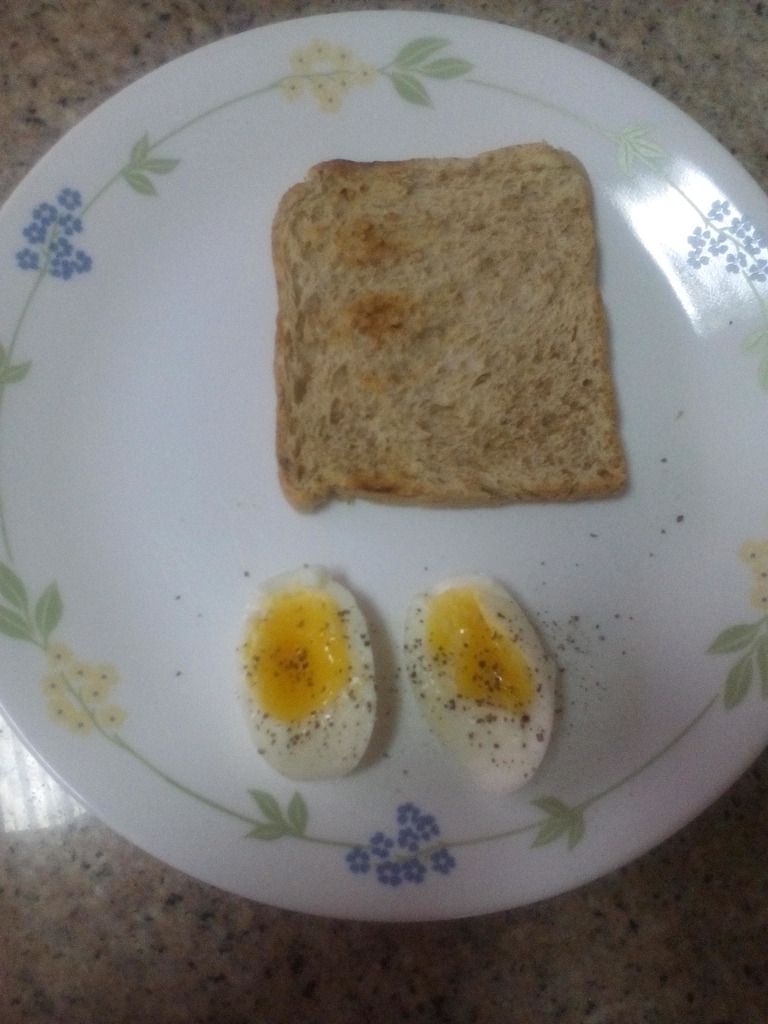 this ISN'T day 3 dinner. this is day 3 lunch, but since day 3 lunch was really really ugh, pathetic, i just HAD to present it this way ~ with some salt and pepper. PLUS, i wasn't able to take a picture of my day 3 dinner because i was soooo hangry.
and now it's over. done with.
the verdict? ok, i lost *drumroll please* a measly 4 pounds. not much right? but i'll take it anytime!
i may not have lost 10 lbs. heck, far from it, but the program definitely helped me realize some aspects of myself.
discipline and self-control - i didn't know that i had it in me. i used to give up a lot with other programs. maybe i stuck this out because it was just for 3 days, i dunno.
eating smaller amounts - i thought i'd be craving for sweet treats and fatty food when the program is over, but i didn't. i definitely ate more than the meals in the program but i didn't eat rice or a lot of bread. i actually just ate 1 slice of toast, 2 hotdogs and an omelette. for lunch today, i had 5 pieces of crackers, cottage cheese and a small amount of tapa for protein. i also had 2 pcs of dark chocolate cookie and 2 pcs of pringles in between meals. not much, right?
savoring food - i also learned to savor my food. i ate slow and enjoyed every bite.
so will i do it again? definitely! i do think though that i won't be able to survive the program without the ice cream and hotdogs. the program called for cheat days in between so that's i'm gonna do.... until further notice. :)
Posted at 12:25 pm by chocol8junkie
Wednesday, March 09, 2016
2nd day of my military diet - pros and cons
i was a wreck on the 2nd day of my 3-day military diet. i was still hungry. i was a little weak. i didn't feel like doing any chore. and had no motivation to workout, not even do some walking.
i had to focus my mind on something else other than food. and whenever i pass by the kitchen, i would have to stop myself from grabbing a snack or something to munch on. damn those stick-os, barquillos and pringles sitting on the kitchen counter and those chocolates and juice boxes in the ref! it was a test of self-control, i tell you.
i was miserable. i still am. i think this is the longest week ever. in fact, yesterday, i thought it was thursday, when it was just tuesday! anyway, i was soooo miserable and grumpy that i even got into this huge fight with the husband. hay nako.
anyway, here's how my day 2 went: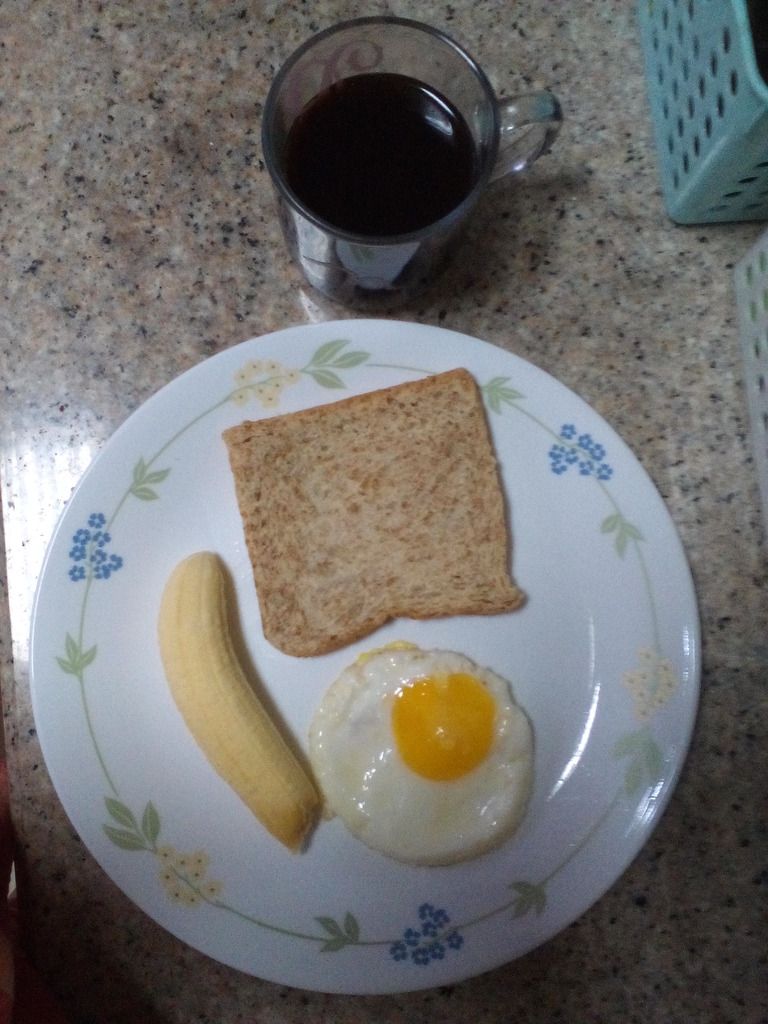 day 2 breakfast - black coffee, 1 slice toast, 1 egg and 1 banana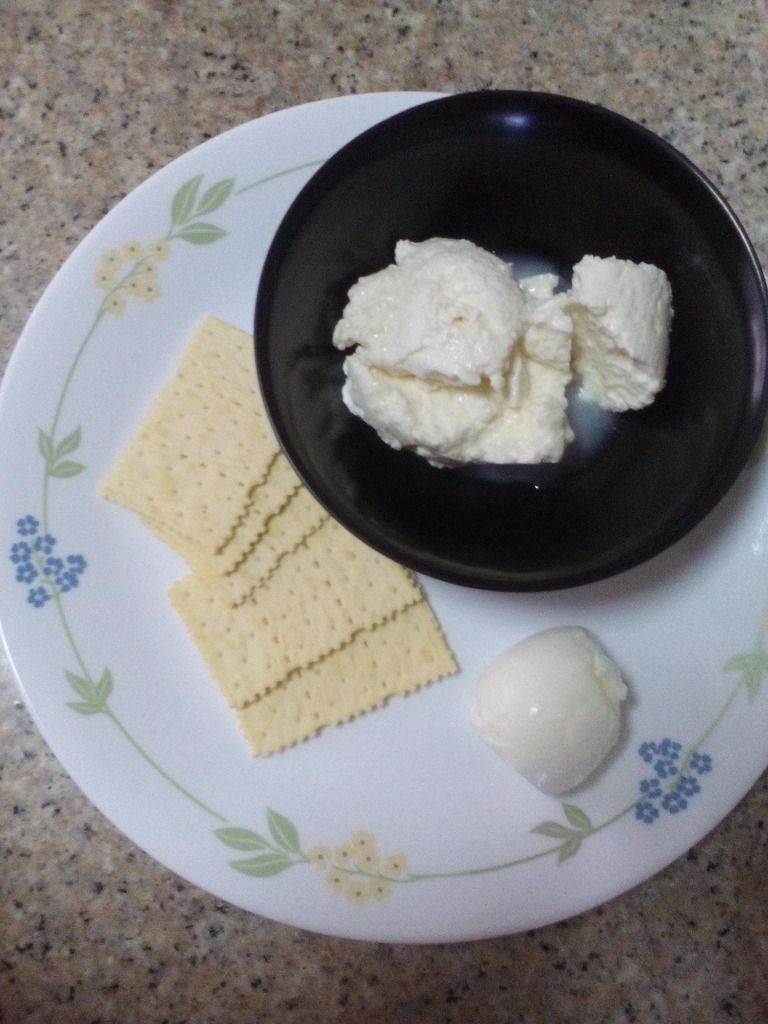 day 2 lunch - 5 pcs crackers, 1 cup cottage cheese and 1 egg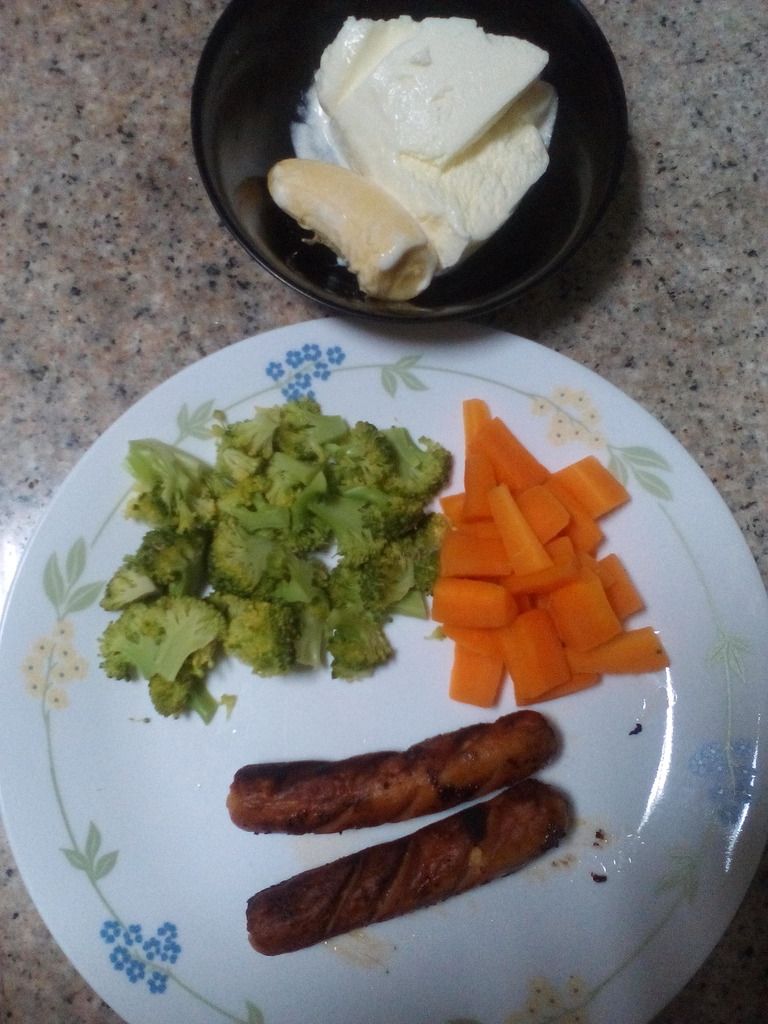 day 2 dinner - 2 hotdogs, 1 cup broccoli, 1/2 cup carrots, 1/2 banana and 1 cup vanilla ice cream
day 2 dinner is, so far, my favorite meal because there were hotdogs (not just one, but two!) and it was the most filling, i think.
by the second day i learned to appreciate small amounts of food on my plate. instead of wolfing it down as i expected because of hunger, i savor every bite. i probably ate my meals for 20-30 minutes. :) and it was a surprise that i still have energy. yes, i'm a little weak, but i was still able to do chores though i didn't feel like it. :(
and now i'm discouraging myself from stepping on the weighing scale to see how i've fared. #excitedmuch i should only weigh myself on the fourth day (tomorrow). hay. LAST 2 MEALS, YO!
*thinking of what to treat myself with tomorrow*
Posted at 08:40 am by chocol8junkie
Tuesday, March 08, 2016
and so here i am again. blogging. sort of.
this is actually just to document this fitness program i'm on right now. but just a backgrounder, i'm turning 40 this year. yes, 4-0. with that, i had realizations ~ one of which was that i would like to see my children grow up. being a work-at-home mom without a helper, i don't have time to workout and really take care of myself. i do work and chores, and when i'm not, i'm too tired to do anything else. now that i'm almost 40, i realized that i NEED to take care of myself more if i want to live a full life.
for starters, i developed a skin care regimen. up until now, i've been using soap (safeguard pa ha!) to wash my face. just soap (what can i say, i'm a super low-maintenance girl). now, i have all sorts of beauty stuff, from cleansing oils to face foams to pore brushes. i also do facial masks and mud packs weekly. it takes a little more of my time, but i'm pleased with the results, so i will be maintaining my daily beauty ritual. no more (safeguard) soap on my face.
my next course of action is to get fit. i remember trying to get into this workout program called p90x with my brother last year. it was such a killer workout! it worked for him. me, i quit just 2 weeks into the program. i've tried zumba, nope. i've tried hitt, nope. i've tried 21-day fix, still no. i quit each and every time. then, i haven't realized the real need to get fit.
i started walking. i find an excuse to go out of the house ~ to the talipapa usually, to buy veggies for dinner. then i came across this program called the
3-day military diet
. i'm trying it out because, hey, it's just for 3 days. and it promises a weight loss of 10 lbs in a matter of 3 days. how hard could that be?
very. i'm on the 2nd day of the military diet and it's killing me! it takes a loooot of self-discipline!
showing you my meals yesterday: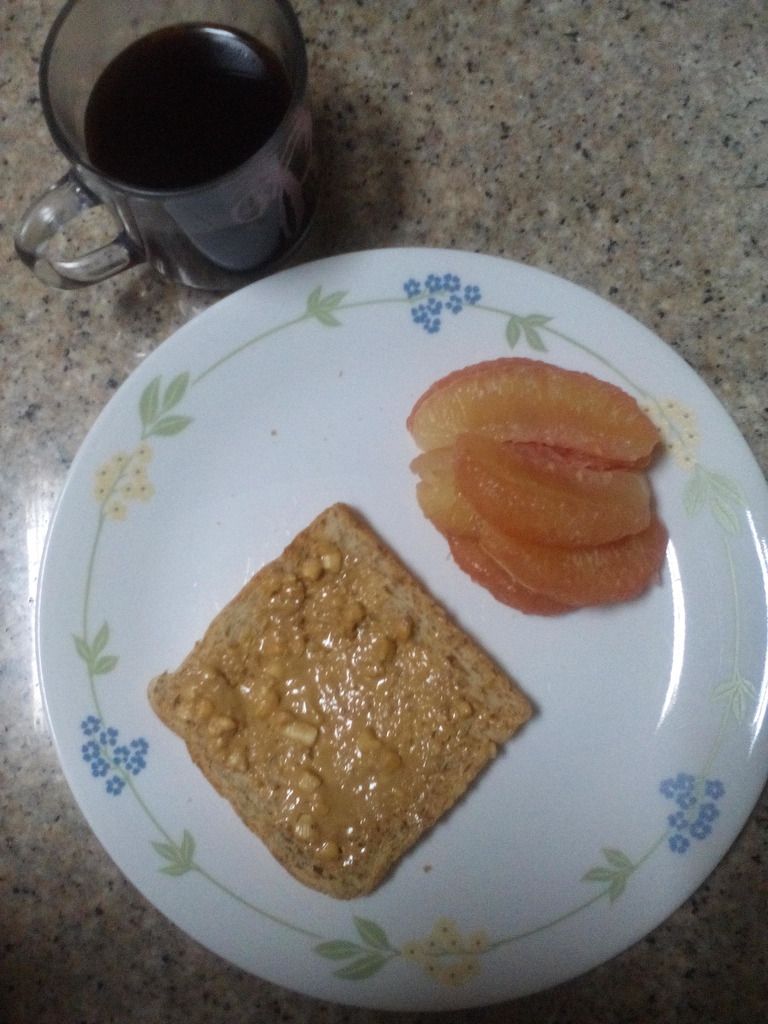 day 1 breakfast - 1/2 grapefruit, 1 slice toast, 2 tbsp peanut butter and black coffee



day 1 lunch - 1 cup tuna, 1 slice toast, green tea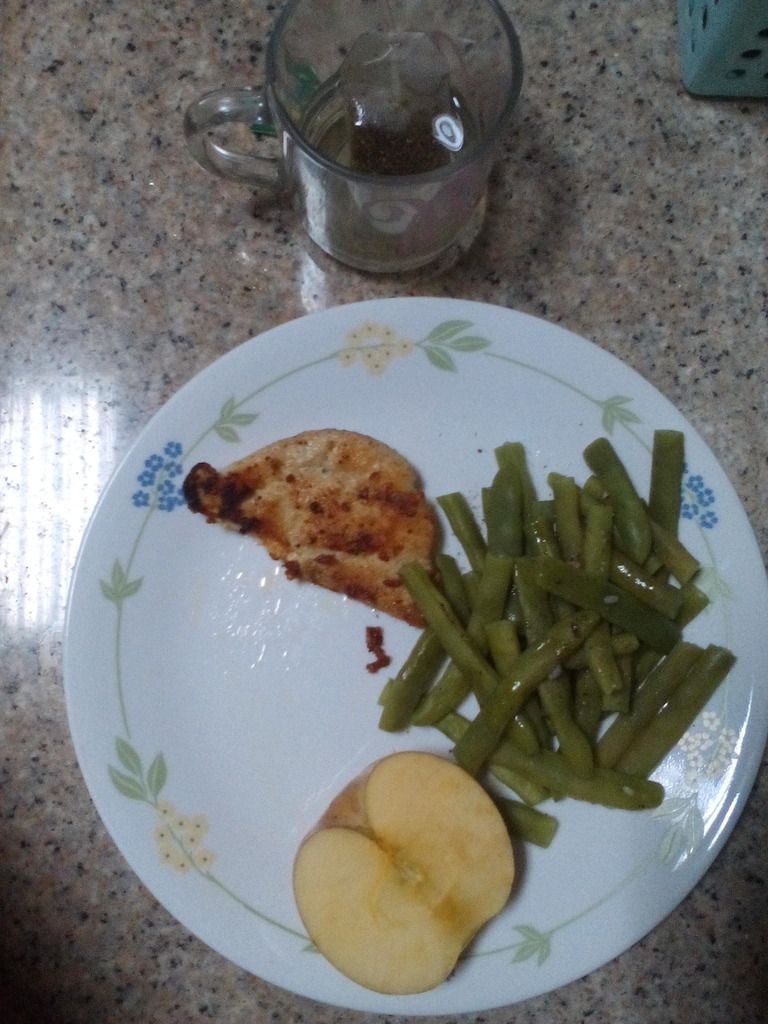 day 1 dinner - small grilled chicken breast, 1 cup baguio beans, 1 apple (it says small lang but i had a big one so i cut it in half) not in picture: 1 cup of vanilla ice cream
pathetic no? felt pathetic din. i was hungry the whole day ~ i was shaking a little (diabetes?). i couldn't wait for the day to end. i was expecting to be very weak, lethargic, dead. but the surprising thing is, no, shocking thing even, i had the energy to do the laundry AND do a 20-minute walk! how is that even possible? and the bonus part ~ i didn't take a nap and i was fine until the late part of the night. whut???
is this some kind of sorcery? haha! and so i survived day 1.
Posted at 01:10 pm by chocol8junkie
Saturday, October 04, 2014
ink scribbler calligraphy workshop
i was lucky to be given the opportunity to attend a calligraphy workshop today for free. yup, for free. thanks, lolit. i can't say that i have zero experience in calligraphy. i tried a little calligraphy back in college, but i just went as far as buying a calligraphy pen and that's it. i just like how the pen slanted which makes my handwriting calligraphy-ish.
so why calligraphy? i dunno... maybe seeing those nice inspirational quotes in instagram made me more interested in it. haha! besides, it's a nice skill to know, don't you think? maybe, just maybe, if i get really good at it, i could offer my services as a calligrapher. i heard they get paid well.
my workshop was scheduled on a saturday ~ in pasig. so i woke up early and hauled my ass to drive on edsa. good thing there was no traffic and i easily found the place (considering it's in an unfamiliar place and that i'm bad with directions). i even had 15 minutes to spare. hah!
so it was held in red panda bistro, in kapitolyo, pasig.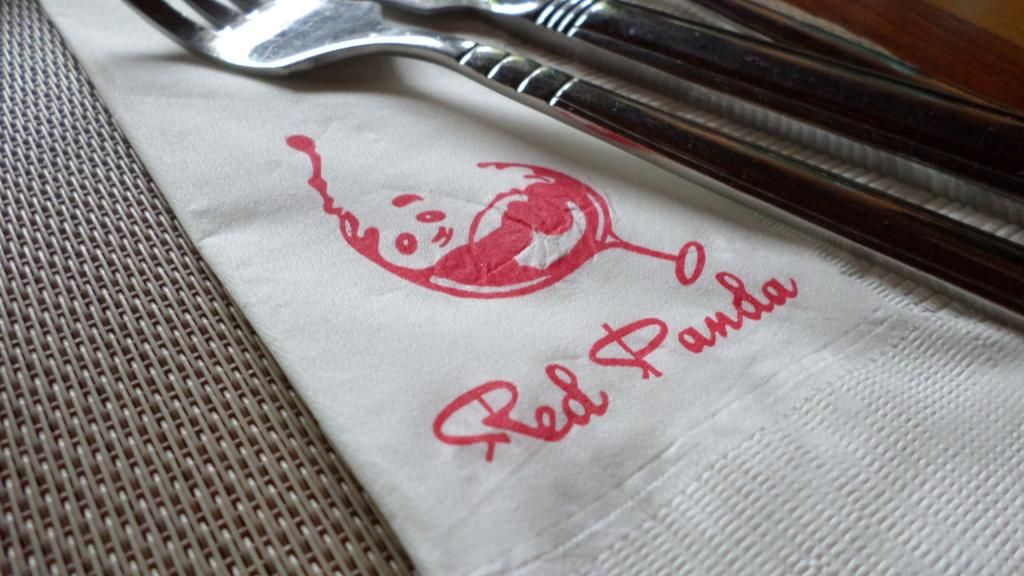 there i met alexis. she's one of the people behind
ink scribbler
. and this is what welcomed me on the table.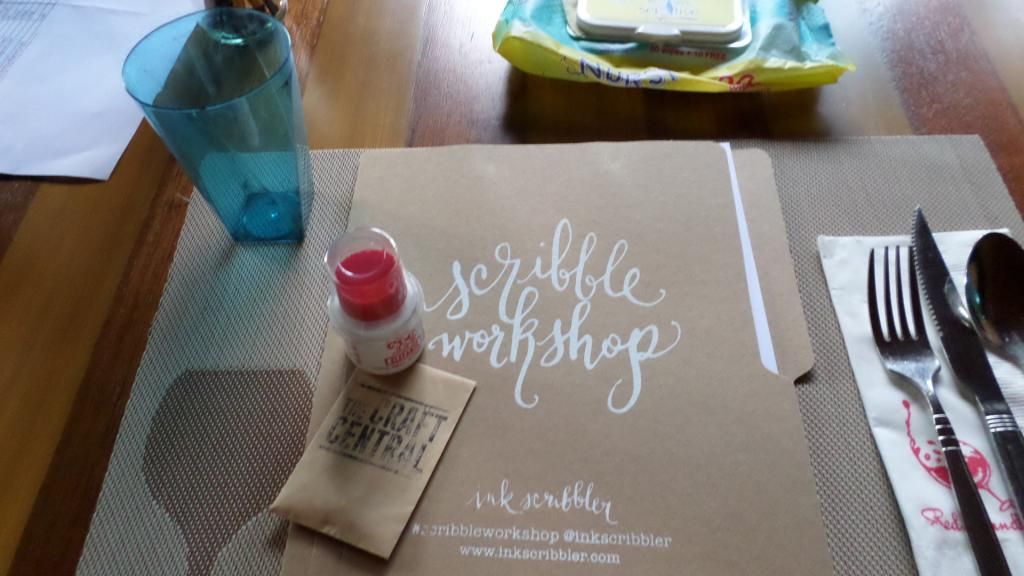 so there's the worksheets, nib, ink, nib holders, pencils, cotton buds, tissue, wet wipes.
when we were all complete, alexis started teaching the basics ~ the history, materials, tips, etc.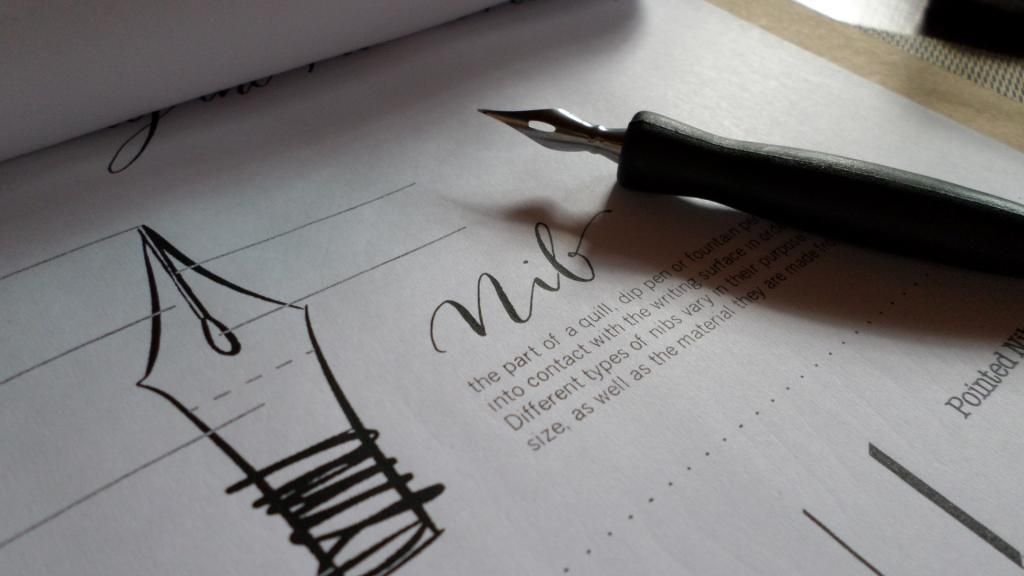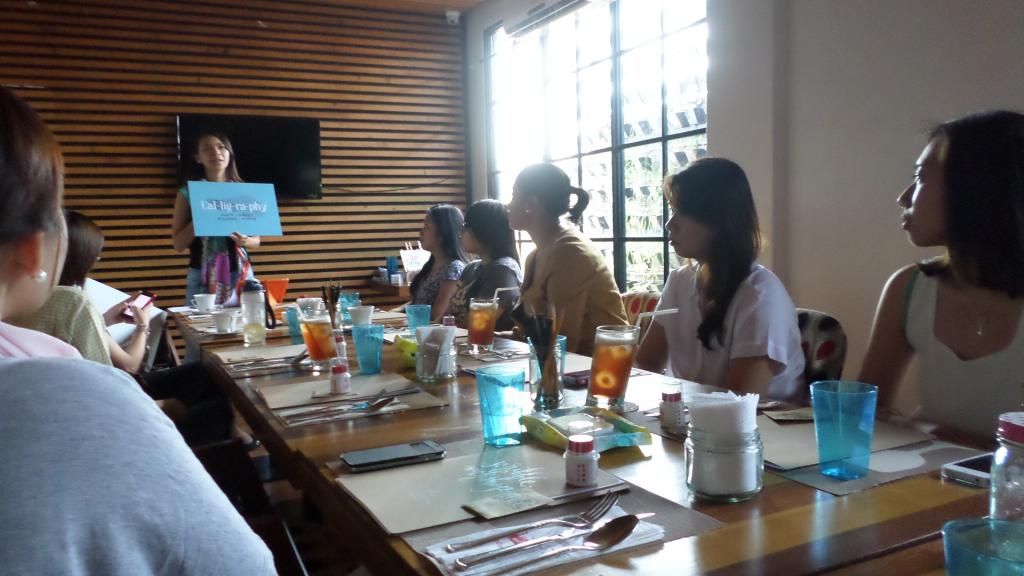 then we started with exercises. pencil work first, then when we were used to the strokes (light strokes up, heavy strokes down), we started using the calligraphy pens. wild! i was scared in the beginning but got hang of it eventually.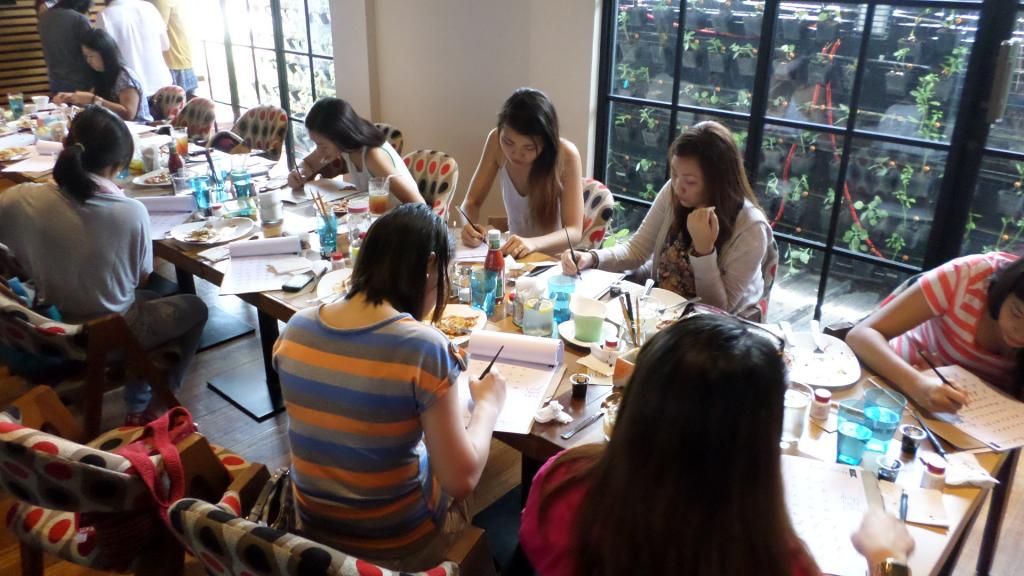 then we had snacks! yum. pizza and bruschetta. at first nobody wanted to eat because we were all busy with our exercises. but eventually, we did eat. i didn't know calligraphy could get me hungry (then again, i'm always hungry!). haha!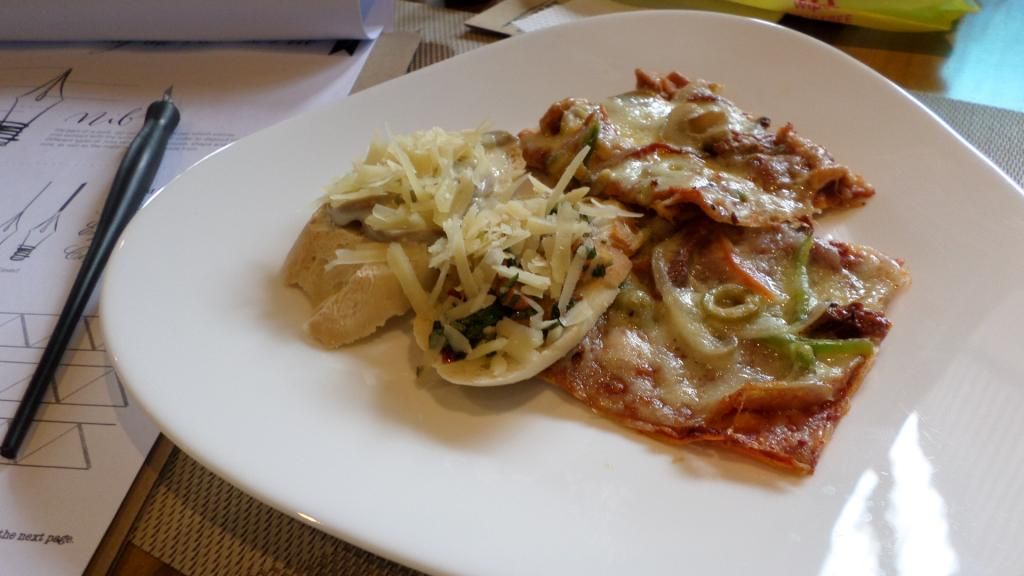 oh, and they were selling calligraphy stuff too, mostly nibs and holders, some inks, plastic containers for the nibs, etc. they're all available at
the craft central
.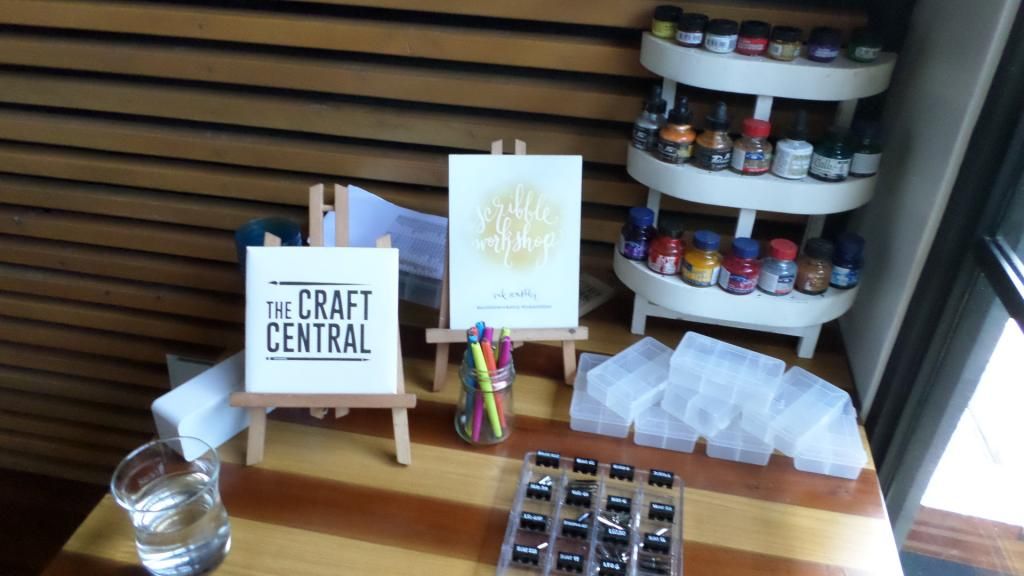 i kinda suck at it, me thinks. i've created a totally new font of my own! haha! but it was a fun class. yay for the opportunity.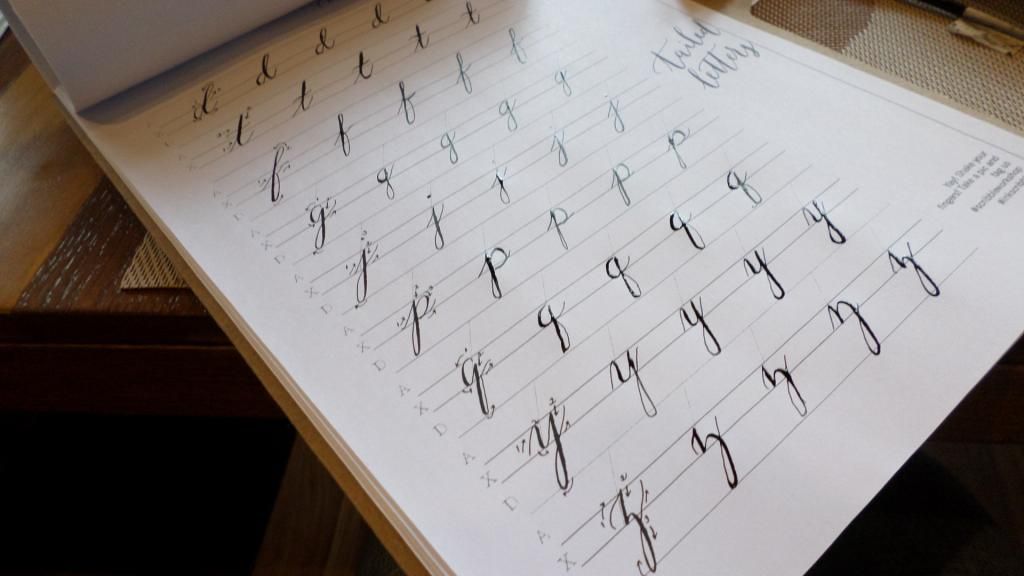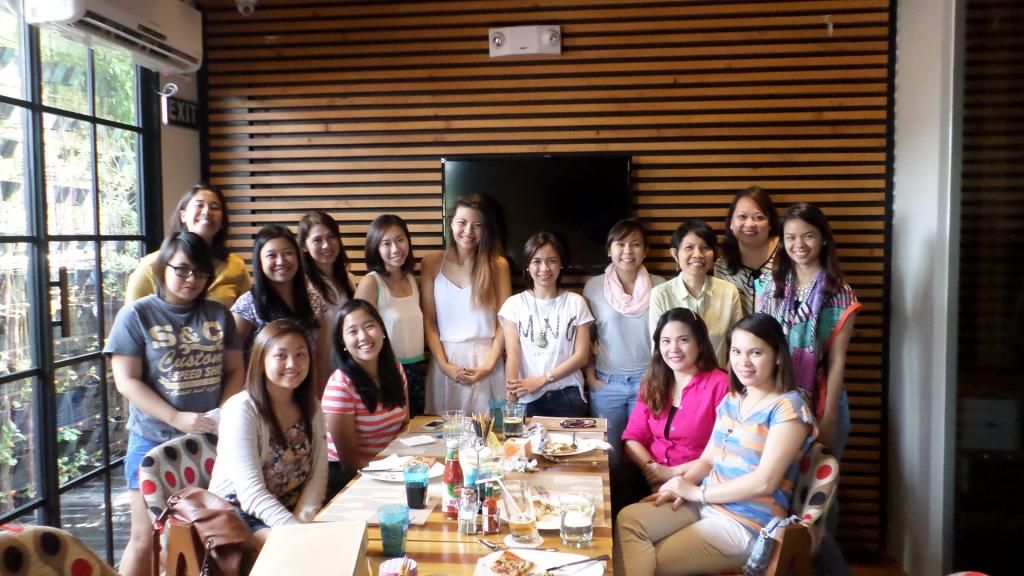 interested? check out
ink scribbler
for future workshops and
the craft central
for materials. and search for #scribbleworkshop for lovely workshop photos.
Posted at 09:24 pm by chocol8junkie
Thursday, October 02, 2014
i may be a work at home mom but that doesn't mean i don't have my share of stress. in fact, i think wahms (without household help or yaya) are more stressed out than working moms, because working moms can focus on their jobs just when they are at work. unlike wahms who juggle their time and energy on both work, and being a mom, and doing housework, etc, etc, etc.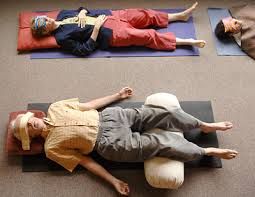 so when i came across this "
yogic sleep
", it got me intrigued. it says, 1 hour of yogic sleep is as restorative as 3 hours of sleep. wow! if i could merely nap and be rejuvenated in just an hour, that would give me enough time to finish more things around the house! it also says that yogic sleep is good for insomnia and stress. and that's exactly what i need! i just need some quiet time to myself. all you have to do, it says, is to lay comfortably on your back and listen to the recording found
here
.
Posted at 10:36 am by chocol8junkie
Tuesday, September 30, 2014
developing good study habits
i mentioned on the previous post that i attended a parent conference offered in 'the big school' about helping your child develop good study habits. when i received that circular that there will be a talk about this, i was impressed. it was nice that the school offered talks and seminars to parents for free. my alma mater didn't have something like this, not that i'm aware of for that matter. and i can't recall my parents attending any kind of talk, not even a parent-teacher conference in my school growing up. and so i got excited that such talk was being offered so i signed up.
i admit that the week before, i slightly regretted signing up for the seminar. it was scheduled at 9am on a saturday. my stay-in-bed-late day. but the husband convinced me and so i dragged myself out of bed and drove to the school.
teacher hannah, the first speaker, is a grade 5-6 guidance councilor. she talked about what schools expect from these students. she said that grade 1 kids are expected to have a stronger task focus and to respond to authority ~ things that penoy needs improvement on. boo.

photo credits
the next speaker is the grade 1 guidance councilor, teacher revy. she talked about the 5 work values that kids should learn at an early age:
1) diligence - this includes patience, optimism towards work, self-control, accountability, and perseverance.
2) order in work - kids need to develop a system when working/studying. they need to know the plan, the direction they were going to take, be aware of the schedule and priorities and be able to manage these.
3) responsibility - includes accountability, independence, and age-appropriate decision making skills.
4) cooperation in work - kids should know how to work with others ~ teamwork and camaraderie
5) cheerfulness in work - kids should generate happiness with whatever they do. they shouldn't see work as a burden.
the main speaker, mrs goitia, the h.s. guidance councilor, talked about how parents could help their child develop good study habits. this topic appealed to me because, i, myself never had any study habits, let alone "good" study habits. when i was still in school, i would study lessons at home whenever i pleased. sometimes, i wouldn't even study for an exam. all i remember studying for was the quarterly and final exams. i passed all those exams, yes, but i know that it's just not the proper way.
and so here are the ways on how to help our children develop good study/work habits:
1) expect our children to study - this sets their behavior. without any expectations, our children would not know what to do. they would do whatever they please. chaos. enough said. oh, and our expectations on our child should be realistic and guided.
key point: reward efforts more than results ~ i agree!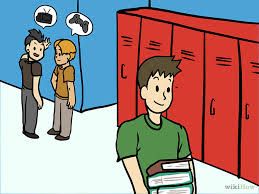 2) facilitate study at home - our kids do not know how to study so we should guide them. set time to study and it should be consistent. parents should also prepare the physical environment for studying.
key point: consistency!
3) guide children in their studies - teach your children how to understand the lessons and not just memorize.
guidelines:
- have them recall or list at least 3 take away things from each subject of the day.
- work on difficult lessons first. kids would have more energy at the beginning of study time.
- sequence subjects that are totally different from each other to avoid confusion.
- take a 5-minute break every after 15 mins.
- do practice exercises
- talk about how to take a test, importance of instructions, and time essence.
- reinforce strong points in lessons. encourage to highlight important notes.
key point: help move lessons from the short term memory bank to the long term memory bank by reviewing everyday. - i like this because it deters cramming.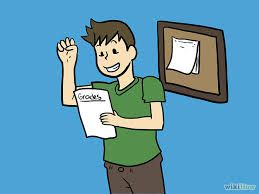 4) encourage children in their work - know your kids' abilities and believe in their capabilities. encourage them.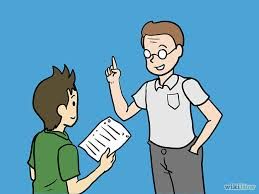 photo credits
so that's it. those are the things i learned from the parent seminar. some things, i already know (but were never applied), while others are new to me. good learnings. hopefully, applying all of these would make our kids not only excel in their studies but go through school without too much difficulty.
Posted at 11:32 am by chocol8junkie
Sunday, September 28, 2014
the neverending thirst for knowledge
they say, learning doesn't end when school does. i believe that it's a necessity to keep on learning new things and developing new skills. if not, living would be boring ~ senseless ~ bleh.
lucky for us, there is the internet and youtube tutorial videos to help us learn stuff we're interested in. in high school, i learned how to apply makeup by myself through magazines. i attended my graduation ball with makeup i did on myself. and it looked better than the prom makeup i got from a well-known salon! now, there are hundreds of makeup tutorials available online, and they're free! there are also many makeup seminars now. i was able to attend one last year when a friend hosted one. it was a delightful seminar filled with lovely women interested in honing their makeup skills.

photo credits
i've attended various other workshops and seminars ~ from acting to screenprinting to work-related ones such as the six sigma and other certification workshops. i would love to attend more trainings and classes however these usually require fees ~ something that i can't easily afford at this time.
i am fortunate to have several seminar/training schedules for october. there's this quality control training for work (oh yeah! i'm back in quality!). then there's this follow up seminar for parents in 'the big school'. i'm beginning to really like 'the big school' as it apparently has free seminars for parents on how to help their children do better in school and develop good habits. in fact, i attended the 1st seminar last saturday ~ but that's for another post. and then there's this seminar that's got me pretty excited. i got to be invited to a
calligraphy workshop
~ for free! a friend who's working in singapore signed up for a workshop when she was scheduled to come over to manila, however, due to unforeseen events, she won't be able to make it and gave me her slot. she remembered that i once expressed interest in calligraphy on fb. so yay!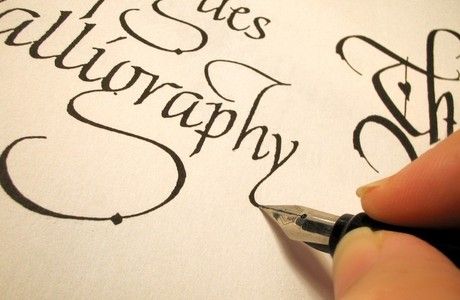 photo credits
Posted at 11:46 am by chocol8junkie
Wednesday, August 20, 2014
after months of planning and procrastinating, i finally was able to finish the kids' chore chart! whoopee! here it is!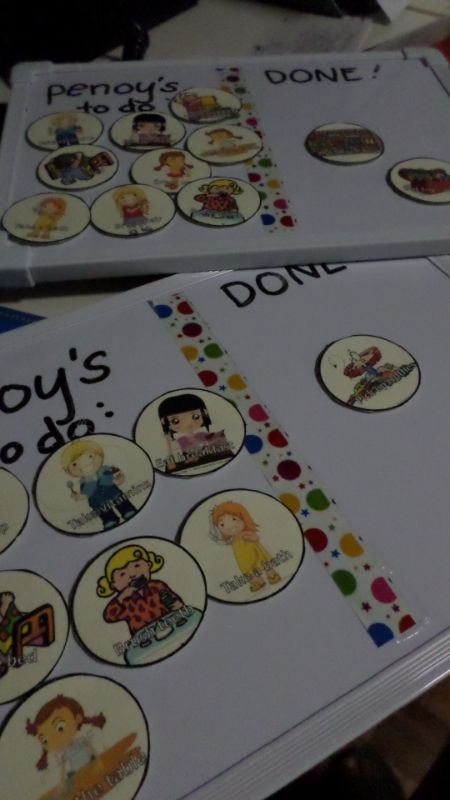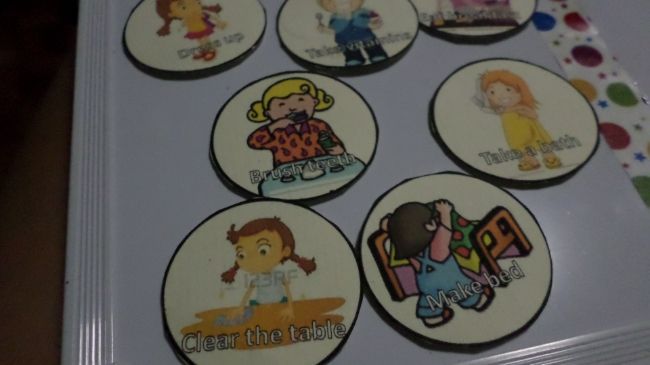 so what it does is, it motivates kids to do their chores (or so i think). it's also a fun way to remind them of what needs to be done on a daily basis.
all i do is to update it every morning and remind them to check their chore charts upon waking up. so far so good. they are doing their chores. yay!
here's what i did:
1) i bought small whiteboards (the magnetic ones) and divided them into 2 parts: 'things to do' and 'done'.
2) i created "buttons" of their chores ~ clear the table, brush teeth, dress up, etc using photoshop or whatever program you want. i googled the cliparts. make sure the pictures are easy to understand, especially by the age of your kid/s.
3) print on a board paper and cut the "buttons".
4) i initially wanted to buy round magnets found in craft stores but i remember having leftover magnetic sheets we used for our diy wedding save-the-dates. and that's what i used. i cut up squares out of it then stuck them at the back of the "buttons".
5) I hung the chore charts on the kids' bedroom wall.
voila! you have your chore charts!
Posted at 12:34 pm by chocol8junkie
Tuesday, August 12, 2014
household chores for kids
since the kids are getting older, i guess it's about time that i amp up their responsibilities in the house. they're accumulating more toys, clothes, school stuff and what-not, i can't keep up with it all. so, i thought of creating a chore chart so they'd know what their responsibilities are everyday (but that's for another blog post). and below is a list of age-appropriate chores moms like me could use.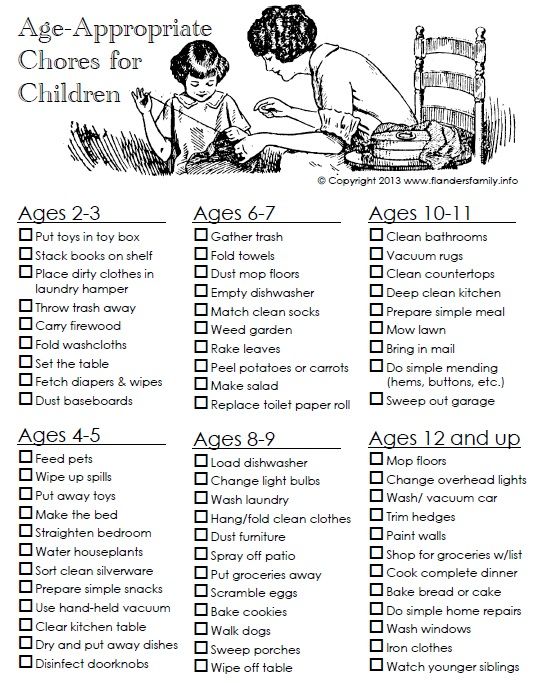 Posted at 12:08 am by chocol8junkie
Thursday, August 07, 2014
fast forward to today.


the penoy is in grade 1 ~ big school. and rides a school bus!

i'm still working for BT with a schedule of (supposedly) 3am.

the bitoy, on the other hand, is in senior nursery. super kulit and bibo.

we got a new dog. 2 months old. a girl, we named her mocha.

stopped my 4-minute workout when school started and started gaining weight. #balikalindogprogram fail. boo.

not actively selling online anymore. but i have plans of starting all over again. *sigh*

the husband is still cutting bottles and have completed a set of order from a badass diving resort in batangas.

a colleague / friend of mine passed away. drove all the way to quezon for the wake.

saw a nightmare. overcame a fear. conquered the devil.

got my hair some highlights. gawd, haven't done that in years!!! loving it right now.

been a little busy experimenting in the kitchen. i've been making blueberry cheesecake and now trying out banoffee pie. it's in the ref, chilling, as i type.

the bitoy had an under the sea-themed birthday so we went to ocean adventure in subic to celebrate. no party this year, just a small celebration with family.

the penoy had a chinese-themed birthday. instead of a party, we celebrated with a staycation at la breza hotel in qc.

completed the kids' chore chart and installed a 'command center' in the office.

busy busy busy days. yes, that's my excuse for being away for a looooong time.

Posted at 02:36 pm by chocol8junkie