after months of planning and procrastinating, i finally was able to finish the kids' chore chart! whoopee! here it is!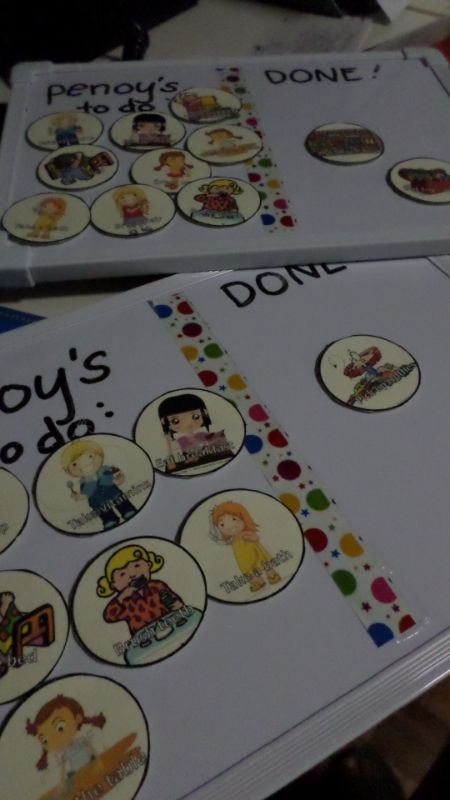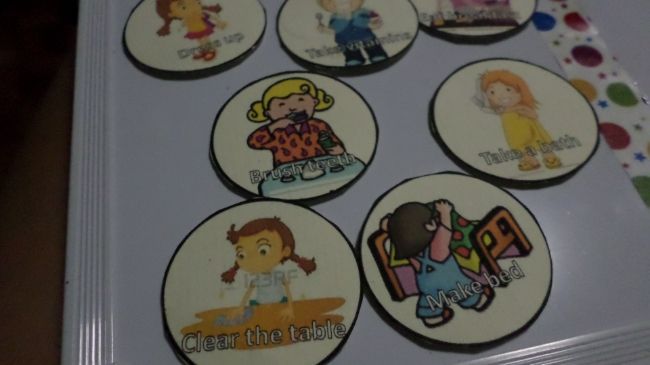 so what it does is, it motivates kids to do their chores (or so i think). it's also a fun way to remind them of what needs to be done on a daily basis.

all i do is to update it every morning and remind them to check their chore charts upon waking up. so far so good. they are doing their chores. yay!

here's what i did:
1) i bought small whiteboards (the magnetic ones) and divided them into 2 parts: 'things to do' and 'done'.
2) i created "buttons" of their chores ~ clear the table, brush teeth, dress up, etc using photoshop or whatever program you want. i googled the cliparts. make sure the pictures are easy to understand, especially by the age of your kid/s.
3) print on a board paper and cut the "buttons".
4) i initially wanted to buy round magnets found in craft stores but i remember having leftover magnetic sheets we used for our diy wedding save-the-dates. and that's what i used. i cut up squares out of it then stuck them at the back of the "buttons".
5) I hung the chore charts on the kids' bedroom wall.

voila! you have your chore charts!